Resort Lock for Short Term Rentals
---
Resort Lock Video
Overview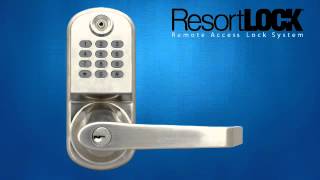 Programming Instructions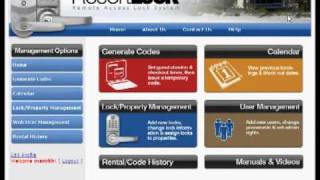 The Solution for Guest Access
Provide access to your guests from anywhere.
Take control of your rental property.
---
The Lock State RL-2000 keyless door lock is a perfect balance of security, benefits, and value.
With features like auto lock, remote codes, and scheduled access, the RL-2000 is the perfect lock for you and your guests. If you own or manage short term rental properties in Blue Mountain or Wasaga Beach this is the security solution you need. Tired of Guests taking keys home or losing them? Tired of having to manage the many keys your properties have? Frustrated with guests checking in early or staying later than checkout? Are you changing lock box combinations too often?
Resort Lock allows you to grant temporary access to your rental property remotely, even if you are not in the same time zone, and even integrate fully with Airbnb.
Your guest won't be able to enter your property one minute before or after the times you specify.  The lock can also provide selective access to not only your guests, but also maintenance, housekeepers, and contractors.
Whether you are a management company or an individual owner that has a vacation rental you, can rest assured that only authorized individuals gain access, and only when you authorize their admittance? No access to wired or wireless networks is required in order to program or operate the lock; therefore, saving you hundreds of dollars without having to maintain internet access when no one is there.
Installation is relatively easy. Setting up the unit can be arranged through Action Lock or completed by yourself.
Register your lock on the free Resort Lock website to begin issuing access codes right away, simply enter the day & time you wants to start giving access and the end time.
Features
Finishes: Silver (in Stock) Brass Available
Lighted keypad
Weather resistant keypad
Remote code generation – unlimited codes over the year.
Up to 800 permanent codes & ibutton users (combined)
Set times for lock to Auto Lock/Unlock daily (must be the same for all 7 days of the week).
Issue one-time use codes for contractors, cleaners, etc.
Daylight savings mode to adjust for daylight savings time
Lockout functionality
Latch: Cylindrical Spring Latch 2 3/4 std or 2 3/8 opt with 1/2 " throw
Key Bypass: Standard
Additional Features w/Software Management
See who and when people are entering your property with Audit Trail allowing you to view up to 4000 door access events.
Manage many access codes and ibuttons all at once
Set access schedules for individual users (Ex. Set code 1234 to only have access M-F from 10am – 4pm).
Set Auto Lock/Unlock function to a different schedule daily (Auto unlock M-F from 9am-6pm).
Specifications
Lock Weight       4LB
Power Source    4 AA Alkaline Batteries
Keypad  Weather Resistant Keypad
Handle  Reversible Lever
Door Thickness            1″ to 2″
Temperature                 -20 to 120 degrees F (-34 to 50C) C6
Front Lock Height          6"
Front Width                    2 1/2"
Back Height                   6"
Back Width                    2 1/2"
Key Hole to Top of Lock  4 1/2"
Working Current           50 mA
Idle Current                  5 μA
Lock Back Time 5 (1 – 25) Seconds                 

Working Voltage             4.8-6.4V
Low Battery Warning     4.8V or lower
Keyway Schlage C6